Monday, September 27, 2004
---
re-issue pa ulit...
dahil hinihiling ng ilang 'piling' kaibigan...

things you can do to have fun while entertaining potential bf's.
GUY: jen kailan mo ba ako sasagutin?
JEN: Maya-maya.

(Naiinip na eh!)


GUY: Jen alam mo bang ang ganda-ganda mo?
JEN: Oo naman, considering na transvestite lang ako. kabayo na nag co-cross dress.
(Baka bastedin nung lalaki yung sarili niya)


GUY: Alam mo jen you're special?
JEN: Ano ako GOTO W/ EGG? Special mong mukha mo!
(Pwede din akong palabok!)


GUY: Kung liligawan ba kita sasagutin mo ako?
JEN: Bakit hindi? ang dali-dali mong sabihan ng 'sorry' eh.


GUY: Jen hatid na kita sa inyo?
JEN: Bakit di naman ako maliligaw ah! ikaw pa iligaw ko!
(Loko! ihahatid daw, gagamit na lang ako ng mapa or compass!)


GUY: Jen alam mo bang exotic ka!
JEN: Ano ako isda!?
(May hasang ba ako inay!)


GUY: Jen kung bibigyan kita ng love letter babasahin mo ba?
JEN: Oo naman, tapos pag tatawanan ko! gusto mo ba edit ko din?


GUY:Jen kung bibigyan kita ng love letter babasahin mo ba?
JEN: Oo naman basta dugo mo ang pinang sulat mo!


GUY: Jen flowers para sa iyo
JEN: Noooooooooooooooo! isang dosenang ari ng bulaklak!


*my personal favorite

GUY: Jen mahal kita
JEN: Bolero! Manloloko! Lasing ka na naman! Hulihin nyo 'to o...nangloloko!


student/teacher bloopers
Try to laugh with these...
*Note: These are all TRUE STORIES


SCENARIO 1

STUDENT: Mam jen CR ako...
JEN: CR ka? akala ko tao ka?
(how could i be that blind?)


SCENARIO 2

CO-TEACHER: Ok class we will be having a recitation today, what can you say about PREMARITAL SEX BEFORE MARRIAGE?
JEN: hmmm...labu.


SCENARIO 3

JEN: o bakit ka umiiyak?
CO-TEACHER: e kasi yung boyfriend ko...
JEN: Na naman?
CO-TEACHER: ewan ko ba ang tanga-tanga ko...mahal na mahal ko kahit gingawa akong DOOR KNOB
(DOOR KNOB ka? akala ko tao ka?)


SCENARIO 4

JEN: Naku manong guard sandali na lang po...pack up na po kami...
GUARD: Suri mam, may CARPYU po kasi eh...
JEN: ah...ok.


SCENARIO 5

CO-TEACHER: Buti di ka napapagod sa ginagawa mo...
JEN: Nakakapagod pero kailangn kasi may ON HANDS training yung mga kids...
(Ano daw sabi ko!?)


every day humor
most people would say that i have a bag of humor slinged on my right shoulder, so when people seems to be lonely, sad or they just have the regular dose of anxiety attacks they tend to look at me.
then they laugh (at that point i try to understand that it is not my face that is funny, maybe it is my personality, now if that could be true should i not feel bad about myself?)

well, i came up with a lists of my unforgettable punchlines which some of you can use to brighten up your day:

SCENARIO ONE:

From a classic college story, one time i came to the classroom and i saw a friend of mine he was looking weary so i asked him-

JEN: O bakit ang lungkot mo?
FRIEND: Wala..may problem lang sa bahay...
JEN: Ano?
FRIEND Ewan ko ba feeling ko isa akong BLACK SHEPHERD

(the minute i heard the word black shepherd, i knew something was wrong but i wasn't able to pin point it there and then)

SCENARIO TWO:

FRIEND: Jen kain ka muna ng pruits...
JEN: Sige, ano bang meron?
FRIEND: Affles, Oranges meron ding Finya
(hmmm...speech defect?)

SCENARIO THREE:

This is a favorite in JSI

BOY: Miss Pwede ka bang ligawan?
JEN: Ngayon na?
(Daig ng maagap ang masikap!)

SCENARIO FOUR:

Try this masaya

STUDENT: Mam ang ganda nyo ngayon ah...
JEN: Kung maganda ako ano ka pa? Diyosa? tandaan mo papatayin ko kung may mas gaganda pa iyo!


SCENARIO FIVE:

Try this if you'd be a speaker for a seminar

FACILITATOR: Mam, how do we address you?
JEN: (All smiles) Former binibining pilipinas universe
*the facilitator will laugh her/his heart out as soon as she copes up with the shock

SCENARIO SIX:

Try this if you fel like you want to be hurt

Look at a person you don't know and start teasing him/her with an inanimate object (eg. chair, desks, ballpens)

SENARIO SEVEN:

When somebody asks you what is your profession tell him/her with out thinking twice that you are a 'MUSE'

JOB TITLE: MUSE
JOB DESCRIPTION: To inspire and to be beautiful at all times.

SCENARIO EIGHT:

Act like Melanie Marquez

(though personally i like her)

SCENARIO NINE:

Talk to my mom (she's ilonga)

NANAY: Jini, tilipon
JEN: Sino daw po nay?
NANAY: Jime daw...
Now was that Jaime or Jimmy...i guess i have to find out...

SCENARIO TEN:

Save the best for last.
Note: This is a true story

Listen to your father as he sing 'PUFF THE MAGIC RACOON'

*partida videoke yun...

Thursday, September 23, 2004
---
re-issue
i searched for these old posts because i really feel low today because tomorrow is mabel's (my very good friend)last day at work, she's going to london and i don't know what to feel, i am happy because i know that this is what she wants from the very beginning and yet i feel sad because i don't want her to go...so as a placebo for happiness i searched and located the following-

sablay na hirit!

I couldn't care a damn!

What's your next class before this? (ANO DAW???!!!)

Nothing in this world is perfect except the word "change"

Can you repeat that for the second time around once more fromthe top? (ulitin natin hanggang mamatay tayo!)

My dad brought home a lot of hand-me-downs! (Translation: Damingpasalubong ng tatay ko.)

Standard and Chartered Bank

I'm very iterated!!! (transalation: galit sya! haha!)

I'm sorry, my boss just passed away. (translation: kakadaan lang ng boss nya.)

Hello, my boss is out of town. Would you like to wait?

What happened after the erection of Mayon Volcano?

Don't touch me not!

Hello?... For a while, please hang yourself...

Its spilled milk under the bridge.

Don't change anything! Keep it at ease.

Hello McDo? Mag-i-inquire lang ako kung magkano ang kidneymeal? (yung pang-batang pagkain)

You!!! You're not a boy anymore! You're a man anymore! (coach?!coach?!)

Out of fit ako these days eh... (translation: di syanakakapag-exercise)

Come, lets join us!

Bring down the house down!

I'm the world champion of the World!!!

Beneath the Belt!

Rule of Hand... (thumb yata ibig sabihin...)

Can you repeat it once again?

Mukhang haggard-looking.

Do you have more brighter ideas?

Halatang obvious naman yata

"Well well well. Look do we have here!"

"It's a no-win-win situation."

"Burn the bridge when you get there."

"Anulled and void."

"Mute and academic."

"C'mon let's join us!"

"If worse comes to shove."

"Are you joking my leg?"

"It's not my problem anymore, it's your problem anymore."

"You can never can tell."

"Been there, been that."

"Forget it about it."

"Give him the benefit of the daw."

"It's a blessing in the sky."

"Right there and right then."

"Where'd you came from?"

"Take things first at a time."

"You're barking at the wrong dog."

"You want to have your cake and bake it too."

"First and for all."

"Now and there."

"I'm only human nature."

"The sky's the langit."

"That's what I'm talking about it."

"One of these days is not like the other."

"So far, so good, so far."

"Time is of the elements."

"In the wink of an eye."

"The feeling is actual."

"For all intense and purposes."

"I ran into some errands."

"Hi. I'm , what's yours?"

"What is the world is coming to?"

"What is the next that is?"

"Get the most of both worlds."

"Bahala na sila sa mga batman nila."

"Whatever you say so."

"Base-to-base casis."

"My answers have been prayered."

"Please me alone!"

'It's as brand as new."

"So... what's a beautiful girl like you?...."

"I can't take it anymore of this!"

"Are you sure ka na ba?"

"Can't you just cut me some slacks?"

*hayyyy life.


Tuesday, September 21, 2004
---
cd, disc man and a hamburger shaped disc organizer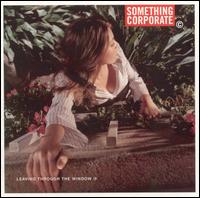 This cd was given to me by my sister as her gift for my 26th birthday together with a disc man and a hamburger shaped disc organizer. The cd was from a band 'something corporate' and the album title was Leaving Through the Window. I was so taken aback by the music that I read articles about the group. I am 26 and the songs from the album was meant for a younger audience but the funny thing is it takes me back to a road called memory lane, way, way back when I was in college. For some reason it had given me a nostalgic effect.

The band involves five young high-school buds from California whose trademarks include spazzy (is there such a term?) hair and flip-flops? More than you would most likely expect. Something Corporate is one of those bands that when you are asked to describe them in only a few words, then you are at a loss.

However, putting Something Corporate in a specific category is near impossible. For starters, the record label. Drive-Thru Records (which I have known because of my good friend chuck) is popular among the younger "scene" making un-known punk bands known. Besides the softer, not so punk tunes, Something Corporate provides compared to other Drive-Thru bands, one other thing sets them apart. The main instrument of the band. A piano. Definitely not something you see everyday at a punk concert. I can only imagine the expression on the audience faces when they roll out a piano onto the stage.

So, what are they really? Punk? Rock? Emo? Pop? Who knows, but more importantly, who cares? This is good stuff. With catchy lyrics and absolutely amazing vocals, "Leaving Through the Window" has tons of punch. Especially if you can get past thumbing through the disc cover, fawning over these California boys. You might as well plan to put this one on repeat in your stereo (I do!).

We all experience the nightmare of bringing home an album because you heard one song. you thought they were cool. and decided to check them out. Oh, but heaven forbid they put more than one halfway decent song on the whole thing! In this case, no need to worry. Every single song, from the upbeat jams to the melancholy harmony of the piano, is worth listening to.

*Thank you to ear medicine

---
winning the invisible war
I was really happy when one of my students asked me how to get back the fire in her heart (for Christ).

I was happy because it means that she knows something is wrong and that she wants to do something about it.

Fact of the matter is that it does happen. People tend to fall out of the feeling of being on fire for God. But the good news is that your feeling has nothing to do with your faith.

And even if you lose the fire in your heart for God, the greatest news is that He will not lose interest to you.

If you would hear these words isn't it enough reason to be on fire for God again.

The race is not [always] to the swift, nor the battle to the strong.

---
lawful calling
This has long been overdue.

I really wanted to write a piece about my last birthday (September 17).

But the thing is I am really exhausted because of the entire event that had happened during the same week.

Tonight I came to realize that I need to share the wonderful experience that I had last Friday.

Two of my classes bought me cakes and ice creams (but of course I ate it with them, where's the joy of eating if your not going to share it with meaningful individuals). The beauty of the experience is not from the cakes or the ice cream but the very fact that amidst the financial hardships that these students encountered (for the fourth year, the gut wrenching thesis and for the third year, the heart breaking TVC) they manage to give me a party. I can't even throw a party for myself considering that I am working, earning a regular salary and I couldn't even afford a cake roll.

It is very difficult for me to verbalize the things that I felt because I am not a graphic individual and I am not that 'emotional' but one thing that I am sure of is that I felt so 'important'.

Fact I don't usually feel that way. I was brought up with the philosophy that you do what needs to be done and that's it. Don't wait for compliments. Don't look for thank yous. Just finish what needs to be accomplished. I am not saying that everybody should take pity on me. That's not the point.

When I first taught, I preconditioned myself that this is a thankless job. Last. September 17 I prove everybody wrong. Teaching is not a thankless job.

Teaching is a profession that reaffirms one's self worth.
Teaching is a career that only provides a one-way ticket; you can go forward but never backwards.
Teaching is what I live for.

Even if most people would say that what I am doing is 100 percent stupidity, I would still say…

Amidst the tiring days of checking, the sleepless nights of editing and the exhausting hours of understanding my students, once in a while you get a pay off so big you can't even handle it.

To all those students who believes in me…ALL THE GLORY BACK TO GOD.

pati: napakasarap nung ice cream at cake, tsaka napaka gaganda ng ,ga gifts.


Monday, September 20, 2004
---
can't believe i am resorting to these...
I saw this in friendster and I said to myself…magpakababaw kaya tayo?

1. SCHOOLS YOU'VE ATTENDED?
san juan elementary school, Roosevelt college san juan, polytechnic university of the Philippines (undergrad and masters) UP (hopefully, this coming 2nd sem)

2. YEAR YOU WERE BORN?
1978 (shucks! i am old)

3. DID YOU GET ENOUGH SLEEP LAST NIGHT?
of course napaka-sarap matulog. one of the fave things to do is fill up to the brim ang aking sleeping bank

4. FIRST THING YOU THOUGHT ABOUT THIS MORNING WHEN YOU WOKE UP?
lesson sa cell

5. WHAT DO YOU HAVE HANDY AT YOUR BEDSIDE?
bible, telephone (handy ba yun?)

6. EVER TRIED TO SKIP MEALS?
lagi lalo kung busy, nakakalimutan kong kumain…:(

7. GRILLED OR FRIED?
grilled! naman.

8. WHAT MAKES YOU UNIQUE TO OTHER PEOPLE?
everything…the fact that I have invisible antennas, unique is an understatement

9. WHAT ADVICE WOULD YOU GIVE TO YOURSELF TODAY?
fix your eyes towards GOD

10. GIVEN A CHANCE TO GO ON NATIONAL TV, WHAT WOULD YOU DO?
prophesy! (come on!)

11. IF YOU COULD HAVE ONE HOUSEHOLD APPLIANCE WHO HAS A MIND OF ITS OWN TO FOLLOW YOUR ORDERS, WHICH WOULD YOU CHOOSE?

vacuum cleaner! (clean the house)

12. ARE YOU AFRAID OF THE DARK?
nope.

13. FAVORITE HANGOUT?
coffee shop (cheesecake and figaro) minsan nga akala ko dun na kami nina chit nakatira.

14. WHATS YOUR BEST PICK-UP LINE?
come on!

15. 3 THINGS YOU CAN'T LIVE WITH OUT?
bible, 121 booklet, disc man

16. YOU'RE A LIFELESS OBJECT FOR A DAY, WHAT WOULD YOU BE?
di sya lifeless pero gusto ko maging-
*kangaroo
*ogre
*giraffe
*alien na naka gold na over alls
*gargoyle (yung matikas ha!)

17. FIRST THING YOU WILL BUY IF GIVEN 1 THOUSAND PESOS?
cd nung united live na more than life

18. FAVORITE SONG WHEN YOU'RE SLEEPY?
punk rock princess (something corporate)

19. WHAT ARE YOU AFRAID OF?
nothing.

20. ARE YOU WILLING NOT TO TAKE A BATH FOR ONE DAY?
hindi 'no…pangit na nga ako tapos mabantot pa! Kalabisan na yun!

21. CHRISTMAS GIFT YOU WANT TO RECEIVE?
nothing in particular.

22. WHAT ARE YOUR NICKNAMES?
jing

23. WHAT IS YOUR DAD'S MIDDLE NAME?
hahaha…palagay mo sasabihin ko?

24. WHO ARE THE GFS/BFS OF YOUR BROTHER(S)/SISTER(S)?
wala kami both bf! We rule! We rock!

25. MOST RECENT MOVIE THAT YOU WATCHED?
dawn of the dead (george romero)

26. INVISIBLE FOR A DAY, WHAT WOULD YOU DO?
preach na malapit sa ears ng mga tao.

27. GIVEN 3 WISHES, WHAT WOULD THEY
BE?
*more converts for god
*to go to a mission
*to be a regular employee

28. STUCK ON A DESERT ISLAND & COULD HAVE ONLY ONE KIND OF FOOD FOR THE REST OF YOUR LIFE, WHAT WOULD IT BE?
milk! Yung fresh ha.

29. FAVORITE T.V. COMMERCIAL?
wala.

30. IF YOU'LL DIE TOMORROW, WHY NOT TODAY?
ano daw!? Huyyyyyyyy! ayusin mo yan ha!

31. FIRST THING(s) YOU'LL SAVE IN A FIRE?
di sya things pero sila talaga. my dogs.

32. YOUR EYE COLOR?
maniwala ka pink!

33. WHAT ARE THE THINGS YOU ALWAYS CARRY?
bible and 121 booklet

34. SHOWBIZ OR POLITICS?
naman. politics

35. FROM 1-10, RATE PRES. GMA?
what perspective?

36. WHAT DO USUALLY DO WHEN THE CLOCK TURNS 7?
am or pm? AM…tulog pa…PM nag tuturo pa

37. THE COLOR OF YOUR BEDSHEET?
white.

38. GIVE JUST 1 FAVORITE SONG.
better than life.

39. IF YOU WILL DIE TODAY, WHO DO YOU THINK WILL CRY THE FIRST?
my mother.

40. WHAT DO YOU WANT TO BE WHEN YOU WERE A KID?
a pencil.

sabi ko sa inyo mag paka bababaw tayo!

Thursday, September 16, 2004
---
I'll simply make mention of solidified independent sentences that speaks of...
this is the best gift i received for my birthday...
thank you chuck...

Looking back I cannot help but wonder how six years of my life would have ended up as awesome as it was now if it wasn't spent with Jeanie.

I was barely a year out of high school when I first stumbled into Jeanie. I was eating a bag full of Nova (or was it Piatos?) in the MassComm lobby alone and introverted as usual when all of a sudden she came right in front of me asking if she could have some of the snack that I'm at that very moment consuming. It was really weird every time I come to think of it and she was with her friends Angelica and Gisele at that time. But nevertheless that was simply the beginning or better yet a foreshadowing of something big that's to come.

It wasn't until the closing days of the school year when I later caught up with Jeanie again, it was my band's first gig at school and it was the foundation day of our college and we were about to play our set when I heard Jeanie screeching: "Go Chuck" as she sat on the floor perpendicular to where we were about to play our music and get ourselves humiliated big time. As I think of it now really I cannot help but laugh as well because after the 'go Chuck' was the sound of her voice yelling: "Whooo drums!" which was really all about sarcasm since our drummer at the time Jarme, (who also happened to be one of the lousiest drummers that I've known if ever there is one) was playing this pathetic beat mimicking The Offspring's 'Come Out & Play'. The gig ended right in the middle of our second song the organizers were poor planners and they could not accommodate all the listed bands that are slotted to play so they decided to cut off our playing time, so as to give way for the next band, and by the time that I was out and off the stage after a lawful of cursing the sight of Jeanie was there no more. But that again was still another foreshadowing.

A couple of days later I was surprised when Damaso, (the designated class irregular-student-bum in our block) asked me to write down my number on this piece of paper so as to give it to Jeanie. I was flattered so as if I was trying to impress her or something like that I wrote down 2 telephone number one is for our PLDT and another is for our Bayantel phone that was installed by my brother for his modem. It was around 10 when I got to talk to her via our Bayantel phone. She told me about how she was a friend with another band that played in the same gig, and how she loves Korn, Rage and a whole lot of other bands that played that angry rap-m stuff at the time. While I told her I was into punk rock and that my most influential musses are Greenday and The Cure. Again that was but another foreshadowing.

But as time pressed on and went into its natural course and direction things unfolded at the start with a symposium that me and Laix went to because Jeanie invited us. But going further it grew and blossomed into almost 6 full years of things that I could no longer make mention in a mere simple paragraph of sorts but instead I'll simply make mention of solidified independent sentences that speaks of that 6 full years.

Looking back I could all but remember the:

The Bible stories.
The nighttime prayers.
Playing Tekken 3 and beating up a host full of challengers and the occasional team-ups with Reginald.
The late night talks.
The long idle chitchat and gossiping at Ali's house.
The countless movies. The horror flicks.
The Cartoons: Cow & Chicken, Ren & Stimply, I Am Weasel, Hey Arnold, The Rugrats, Wild Thornberry's, Spongebob Squarepants, As Told By Ginger, GTO, Justice League, Teen Titans, X-Men Evolution, Beavis & Butthead, The Simpsons, Futurama etc.
The late night movies search for B-Flicks with gore and senseless violence.
The music we've listened to and sang: The Ramones, The Clash, Plumb, Texas, The Cure, Greenday, Letter To Cleo, Save Ferris, Gin Blossoms, The Sex Pistols, Rancid, Ash, MxPx, Sonic Flood, Jars of Clay, Sixpence None The Richer, Blink 182, Dashboard Confessional, United Live, Hillsong, etc.
The affiliations that have been: TABAK, KATRIBU, ANAKBAYAN, CEGP, Anarcho-Punks, BK, Youth On Fire
The dogs that have come and gone: Black, Jaguard, Murphy, Druiness, Jarod, Odie, Klondyke, Kuya, and Grownor.
Buying countless P35 cassttes on the sale bins at SM record bars.
The October and Novermber Christmas shopping.
Saint Jude, Santa Clara churches.
The long conversations about how life is as a punk in his 30s with Darwin and Ab at Radiation Area Distro.
Our escapades on ACA San Juan, Star City, Bicol, Taft Avenue, Robinsons Place, Mendiola, Greenbelt, Tandem Recto, Ali Mall, Riverbanks, PCBS Powerbooks Makati etc.
Our long walks in Ayala, Cubao, V. Mapa, UP, Teachers Village.
Me being hospitalized twice.
The hospitals we went to for a number of times. Most recently with the tuberculosis diagnosis that she received from her medical exam at EAC.
The friends and acquaintances: Laix, Gisele, Angelica, Buddy, Cheng & Len Len, Ali, Raquel, Reginald & Weng, Cedric, Mark, Jarme, Melody, Mia, Fritz, Toto, Marlo, GL, Riva, Karl, Marianne, Edward, Jocson, Bunny, Delbert, Michelle, Gera, Ana, Rovic, Michael, Shirley & Ruth, Shondel, Lolo Eliseo, Mang Bruce, Aldy, Kiko, Gomer, Chris, Ms. Elaine, Charisse, Jem, Aga, Monica, Aina, Darwin, John Fishbone, Mang Jun Alberto as well as the lefties, greens, anarchists, skaters, goths, emo nerds, indie geeks, punks, and Jesus freaks that we've met along the way.
The stargazing at Sunken Garden accompanied by the talk about physics and light years.
Designing the layout for her magazine project.
Doing the graphic design and web maintenance for Pinaybloodrush.
The hypothetical questions game that we play.
The books that we've read: The Bible, The Little Prince, Philippine Society & Revolution, The Communist Manifesto, The Bob Ong Books and countless others which ranged from Socio, Philo and Communication textbooks, to theses, to fiction and novels, to cookbooks, to political manifestos and theological writings.
The comics: Wasted, Shade The Changing Man, Doom Patrol, Batman, The Death of Superman, Keith Giffen Era-Justice League, The Comical Tragedy of Mr. Punch, Pugad Baboy among others.
The bai and Saudi boy jokes that we've outgrown.
The VHS tape hunt for long since forgotten movies.
The ATM pin numbers based on our anniversary and our birthdays
The cell phones lost, gained and lost again.
The seemingly unending fights over palmistry and tarot cards.
The book reading at national bookstore main.
The 1 peso snacks at their sari-sari store.
The long talks with Tina, Tutoy and her mother.
The Bicol trip with her family.
Dissing rockers, fashion punks, mall emos, poser skaters and the beautiful ones.
Having her give me silly looking haircuts.
Conducting cooking experiments and mixing cool new kinds of beverages with her mother's blender.
Having my clothes fitted and sewn by her and her mother to make it fit to my frail skeletal frame.
Learning new arcade and PC games together with her sister.
Having our pictures taken together inside a 1-hour rush photo booth.
The imaginary character of Kiko Monster.
The Earth Day celebrations.
The long drunken talk with her father about this girl with 12 fingers in hand.
The restaurants and coffee shops like: Likha Diwa, Smokey's, Salt of the Earth, Along Came Mary, Kapnay, Earthlite, Figaro, McDonalds, A&W, Tokyo Tokyo Red Ribbon, Texas, Kenny Rogers and Ate Vi's Lugawan.
The meal fads: Quarter Pounders, Hot Shots, Wing Dings, Root beer Floats, Strawberry Jelly, McDips, Barbecue.
Having this Nakarami card that served us a free meal a Tokyo Tokyo on my birthday.
The Cubao Christmas fairs in front of COD.
The Ukay-ukay expeditions from Cubao, to Anonas, to Recto, San Juan and Quiapo.
The punk shows, Internet surfing, skateboarding and habulan at UP campus.
The mobilizations, rallies and campaigns that raged and fueled our aspiration to make a difference in the world.
The theses, reports, projects, photo essays and term papers that we either did or have checked together.
The days we got by with barely 20 or 30 pesos in our pockets.
The change in our lives from nihilism, to greens, to commie/ND, to anarchists, to Christianity.
The unwavering support, encouragement and faith at each other despite of our own frailties and limitations.
Playing Greenday's 'When I Come Around and Redundant'; Dashboard Confessional's 'Hands Down; The Cure's 'A Letter To Elise, Friday I'm In Love, Just Like Heaven' on the telephone for her.
Shared various silkscreen printing adventures most notable was the the trip to Tutuban & Divisoria to canvass cheap wholesale T-shirts; Bolstering Mark's self-confidence ultimately freeing him from the shadow cast down by Cedric and his skill in that craft, reinstating Reggie and Laix's self worth.
Painting her room with dark indigo and making stencils out of scrap pieces of cardboard.
Bringing her to Youth On Fire for the first time.
Sharing our PowerBooks discovery to Riva and Charisse.
Sharing a meal at Likha Diwa with Riva and Marriane and a whole lot more of other people that I've lost count of.
The numerous times I popped up on her location while she's helping out her students shoot their short films, Mtvs etc.
When she brought the mass comm faulty of San Sebastian College to watch our first gig at Freedom Bar.
When we frolicked through gangland past midnight carrying a puppy that led through a wild-goose chase in finding the house of Gegine.
When we she'd join me Reginald, Cedric and Laix at UP to skateboard.
The weddings we attended (Reginald's and he cousin's).
The infant baptisms that we weren't supposed to be in because the child being baptized were children of people that are totally strangers to us.
The times we went to the vet with her dogs.
Our shared lament for those who've departed this realm: Lolo Eliseo, Jaguard and Druiness.
The times we brought Lolo Eliseo his supper and our search for him when he was arrested for vagrancy and was later brought under DSWD custody.
The times when she depended on me and I failed miserably for the times I said promise and failed to deliver for all the tears I incited and all the screams I shouted and all the other humiliating things that I've caused us to suffer.
The love shared and cherished which bloomed into a greater love that is one that is shared with our kindred identities in Christ.
The tears wept and shared, the angst fueled and calmed, the storms that have brought our worst selves, the cruel words said but we never really meant and the love shared but realized as a part of something bigger that God asks back of us so as to follow his Lordship in our lives.
The indwelling and renewing of our broken spirits with the comfort of God's presence.
And for all the other seemingly unending, meaningful and worthwhile stuff that we've shared which we have both either forgotten or have been stored in the back of our minds which in their own little way have molded both of us to the person that we are now we give God for all the joy and the pain which manifested and resulted with the realigning of our lives to the center of His will.
Happy birthday Jeanie.


Wednesday, September 15, 2004
---
hypothetically speaking...
1. DREAM NAME:
leigh lorena malaya andrada (my mothers maiden name)

2. WHAT IS THE MOST IMPORTANT THING IN LIFE?
GOD

3. CURRENT CELLPHONE RINGTONE:
bittersweet symphony

4. FAVORITE PLACE IN THE MALL:
coffee shops, bookstores and specialty stores
(pag sa galleria…syempre victory)

5. WORST FEELING IN THE WORLD:
when I feeel that I am not a very good witness to people

6. FIRST THING YOU THINK OF WHEN YOU WAKE UP IN THE MORNING:
where's my bible…

7. MOST EMBARASSING CD IN YOUR COLLECTION:
mandy moore (pero isang song lang 'it's gotta be love)

8. FUTURE CHILD'S NAME
boy: Jacob (even if it Is a girl…pero syempre lalagyan ko ng 2nd name na girlie- girl)

9. FAVORITE BAD GUY:
magneto

10. BY CHOICE, A TIME MACHINE WILL TAKE YOU WHEN AND WHERE?
Wala…I believe in God's time table


11. IF SOMEONE WAS MADE RULER OF THE WORLD (dead or alive), WHO SHOULD IT BE?
GOD (tinatanong pa ba yun?)

12. IF YOUR PRESENT G/B FRIEND SUDDENLY BECAME YOUR EX?
di kami maghihiwalay! (tandaan nyo yan!)

13. TV SHOWS THAT MAKE YOU LAUGH?
that 70's show, just shoot me, spongebob, hey Arnold, real monster

14. SONGS THAT MAKE YOU CRY
saving grace, here I am to worship, meant to live

15. FEEL GOOD SONGS YOU WANNA SHARE?
free, king of majesty, sweetness, better than life

16. PEOPLE WILL BE SURPRISED IF:
I am absent in my class! (pangako di ako umaabsent!)

17. ESTIMATED NUMBER OF TIMES YOU EVER PUKED FROM ALCOHOL:
can't remember…it was the days from long ago

18. WHAT DO YOU WISH FOR CHRISTMAS?
that God will have more believers and workers

19. WHAT'S GONNA BE YOUR WEDDING SONG?
more today than yesterday

20. DESCRIBE YOUR TYPICAL SATURDAY AFTERNOON:
service at 3PM, 1 to1 ng 5PM, dinner ng 7PM, coffee ng 8PM, uwi ng 9PM
(ang kasama ko si chit at jem! nakakainis)

21. WHAT SONG ALWAYS GETS YOU IN A ROMANTIC mOOD?
it's gotta be love (nakakadiri!)

21.YOUR FAVORITE FLOWER YOU WANT TORECEIVED FROM YOUR GF/BF?
gerbera

Tuesday, September 14, 2004
---
the beautiful let down


I recently acquired a cd (of course pirated) of switchfoot and i truly believe that the album 'beautiful let down' is intelligently worded along the lines of Smashing Pumpkins.

I can describe it as a wholly satisfying album that establishes Switchfoot as one of Christian music's finest bands - their best album to date.

Lead singer and guitarist Jon Foreman continued to grow as a musician and songwriter with the release of Learning to Breathe in 2000, with drummer Chad Butler and Jon's brother Tim on bass aiding in the development of Switchfoot's sound.

Here's a band that has truly improved with every endeavor, earning Dove and Grammy nominations along the way. The fruits of their efforts most recently caught the attention of Columbia Records, who were impressed enough with Learning to Breathe to feature five of Switchfoot's songs on the soundtrack for the 2001 film A Walk to Remember, and eventually sign them to a contract for mainstream distribution.

Who would have expected a teenage garage band from California named after a surfing term to become one of the most thrilling and intelligent acts in Christian music? The ironies continue with Switchfoot's fourth recording, The Beautiful Letdown, which isn't a description of the final product.

As fine an album as Learning to Breathe was, it now sounds a little muddy compared to The Beautiful Letdown. Just compare the 2000 rendition of "Dare You to Move" with the new remake found on The Beautiful Letdown, and you'll hear the difference – the changes are subtle, but clearly an improvement. Of course, fans of solid guitar rock will latch onto the album as soon as they hear the powerful opening crunch of "Meant to Live," or the thick electronic effects of "This Is Your Life," the band's most anthemic rocker since "Dare You to Move." Jon's also improved as a vocalist and has never sounded more confident and passionate, allowing his throaty tenor to range from pop ballad singing to hard rocking yowls. Hardly a letdown – this band has never sounded better.

More ironic and meaningful still is the message expressed on The Beautiful Letdown. Switchfoot has been touring mainstream rock clubs in recent years to much success, going so far as to lead worship with audiences equally populated by Christians and non-Christians.

They are a remarkably effective seeker-friendly band, exemplified by the songs of this album. Jon begins The Beautiful Letdown by asking questions of the listener. "Meant to Live" is a somewhat self-explanatory song about finding meaning and purpose to life beyond the broken and hollow promises of the world.

The song order offers a wonderful expression of the spiritual walk fundamental to Christianity, and yet there are few overt references to Jesus in the lyrics. They're present, but worded in such a way to open doors to those who don't understand the Gospel.

thank you to Christian Music Today.

---
testi,,,
this is chuck's testimonial-
what is the reason why i post it,,,nakakataba ng puso,,,bihira kasi akong napupuri,,,mediocre kasi ako,,,

salamat chuck.

It is really hard to imagine that we chose God over the almost 6 years of having such close ties, and that it is more so that a number of our close friends cannot believe it either but true enough we did chose it, and that despite of that we could still look back and smile at the memories that we had back then. If it wasn't for those tapestry of memories we would never have found our place in God's will. So I guess the terminus of whatever it was that we had back then that we no longer have now, is not such a reason for mourning, because of the fact the fact that blossoming of our love did not die nor does it lie there in the ground rendered with the foul
deterioration of emotional rigor mortis. I thank God that He allowed us to stumble
into one another's orbit, and for allowing us to grow together for almost six years
straight. Jeanie because of you I am a better person.

Monday, September 13, 2004
---
pains of being a teacher (students do not read this)
1. Students truly DO NOT appreciate you.

2. You are over worked underpaid.

3. Your students looked at you as somebody they pay

4. You are always sized down

5. You have to take respect from them in a forceful manner

6. They are happy if you are sick, busy or in a boring meeting (because you don't have to come to class, imagine, they are happy because you are sick?)

7. They call you 'irrational being','unfair being','may favoritism' and others
out of nothing.

8. They feel that you should always be a happy shiny individual.

9. They question your opinion

10. Worst they yell 'I don't give a hell care about her number!'
---
fault finding committee
I don't want to be melodramatic in writing this piece because that is not my style. But I cannot help it. To my sincerest recall I believe that I am destined to be a teacher. I was born to be a teacher. And that the sole purpose of my existence is to be a teacher (aside from being a daughter of God).

I was taken aback by an episode from my students. They did not pass their requirements on time and they hated me. Sounds really shallow. Not yet. When they approached me they did not even had the humility to say sorry instead they asked me the assaulting question 'mam tatanggapin nyo pa ba yung soft copy namin?'. No sorry. No apologies. No nothing.

Let's just assume that they just don't feel like they should be sorry. But to make a scene in a laboratory where there are two simultaneous classes undergoing is a temper alkaline. But I feel so blessed that I did not say or do something that would destroy my composure.

Now this is what is making it painful. Those people have been my students for three consecutive semesters. Six different subjects. After the event it was so easy for them to tell lies about me, curse me, say horrible things about me and the worst part is to tell our dean a different story so that they could gain her sympathy.

I am so blessed because right after the defense, our dean approached me and asked if it is true. My dear friend Mabel was still in the room and had helped me disprove all their claims. I felt a sudden inner peace because I believe that this is a lesson that must be learned by those students.

If they think that they can just go away and destroy me by saying foul stuffs, it's okay. They can do it with all their might. I am not here on earth to please man or my students. I am here to please God alone. Solely.

Those who exalts themselves will be humbled and those who humbled themselves will be exalted.

Thursday, September 09, 2004
---
m35b site ring invitation
Wednesday, September 08, 2004
---
interesting enough...
Last Cigarette: 100% non-smoker

Last Alcoholic Drink: Can't remember...

Last Car Ride: last saturday with monica and aina

Last Kiss: with my sis early morning today

Last Good Cry: when i was faced with a very interesing philo of 'walking the talking'(a few weeks ago)

Last Library Book: Women in the Society (for my MA thesis)

Last book bought: good news bible (for my cell mates)

Last Book Read: Book of Acts

Last Movie Seen in Theatres:dawn of the dead by george romero (like it!)

Last Movie Rented: can't remember

Last Beverage Drank: COFFEE

Last Food Consumed: chickenjoy with sotanghon soup (go for gmo's)

Last Crush: chris carrabba

Last Phone Call: chuck

Last TV Show Watched: Spongebob Squarepants

Last Time Showered: just now...before going to bed

Last Shoes Worn: brown old closed shoes

Last CD Played: switchfoot, the beautiful let dowm

Last Item Bought: blouse, ukay ukay (come on!)

Last Download: united live song

Last Annoyance: fact that i have hives

Last Disappointment: my friend does not want to see me to conduct 1 to 1

Last Soda Drank: Coke

Last Thing Written: obvious ba, ito...

Last Key Used: Media Center

Last Words Spoken: God Bless

Last Sleep: Not getting any decent sleep because of my stress (re:my class'

forthcoming defense)

Last Ice Cream Eaten: Chocolate

Last Chair Sat In: in front of the editing pc in adu

Last Webpage Visited: pinaybloodrush.blogspot.com